This is an archived article and the information in the article may be outdated. Please look at the time stamp on the story to see when it was last updated.
In a federal "takedown" of an alleged gang-based credit card skimming conspiracy and related drug dealing, 12 people were arrested and multiple locations in Southern California were raided Tuesday, authorities said.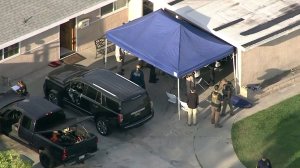 The FBI, California Highway Patrol and Huntington Beach police responded after 6 a.m. to a home in the 13800 block of Mansa Drive in La Mirada, aerial video from Sky5 showed.
Arrest and search warrants were also served elsewhere in Los Angeles and Orange counties, including La Habra, Whittier and Norwalk, FBI Los Angeles Field Office spokeswoman Laura Eimiller said on scene in La Mirada. Multiple local agencies helped the FBI and the U.S. Drug Enforcement Administration, she said.
The suspects are believed to have been involved in a skimming operation that compromised more than 500 credit cards, many of them at a restaurant in Huntington Beach, the U.S. Attorney's Office in Los Angeles said in a news release. Many of the defendants, who were all charged Tuesday, are linked to street gangs based in Norwalk and La Mirada, including the La Mirada Punks and the Carmelas, the release stated.
Investigators at the scene in La Mirada were looking inside a black Chevrolet SUV that has its driver's side window apparently torn out, and a tent was set up in front of the home. Evidence markers appeared to have been placed in a strip of grass next to the home's driveway.
Dozens of officers were on scene by 7:30 a.m. A flash-bang device was used as a safety precaution during the raid, Eimiller said.
After initially saying two people were arrested at the home, Eimiller indicated only one person – a female – was taken into custody as she left the house. Investigators were looking for evidence of the credit card skimming scheme, including using X-ray equipment on the walls at the home, Eimiller said.
The scheme allegedly defrauded banks of more than $500,000.
A spokesman for the U.S. Attorney's Office in Los Angeles said a total of 13 defendants have been named in three cases related to the "takedown" in La Mirada. Eleven of those defendants were arrested in the morning raids, and the lead defendant in the credit card fraud case – 43-year-old Russell Jay Ogden, aka "Big Dog" – was taken into custody Tuesday afternoon.
A 27-count, 60-page grand jury indictment provided for the main case listed identity theft and conspiracy to commit bank fraud, among other charges. Prosecutors allege the defendants devised and executed a credit card scheme that operated between October 2013 and July 2015 in L.A., Orange and San Bernardino counties.
The defendants allegedly made and used portable skimming devices at restaurants to steal data from customers' credit and debit cards. The data was then encoded onto gift cards, which were in turn used to make fraudulent purchases that were later returned for store credit, according to the indictment.
An Apple Store, a Chevron gas station and adult novelty store called Touch of Romance in Brea were targeted. Multiple Home Depot and Toys "R" Us locations were also visited by the defendants, among other retail outlets, the indictment states.
Ogden and his wife Shelly Anne Ogden, 41, both of La Mirada, made and obtained the skimming devices and led the scheme, according to the indictment.
Also charged are: Rudy Leo Aguilar aka "Fats" or "Dreamer," 32, of Norwalk; Blaine Andrew Porlas aka William Miguel Porlas, 51, of La Habra; Marco Anthony Alday III, 26, of Whittier; Milan Vukelich aka "Bo," 37, of Artesia; Leo Norman Aguilar aka Rick Perez, 32, of Norwalk; Ameer Adnan Yousef, 32, of La Mirada; Shawn Phillip Vasquez aka Fernando Padilla or David Joseph Castro, 49, of Hesperia; and Lloyd Luis Leyh aka Lloyd Pattison, 43, of Huntington Beach.
Leyh, who was in past sentenced to 13 years in state prison in an attempted murder case, remains at large.
They are all charged with conspiracy to commit bank fraud, which carries a maximum sentence of 30 years in federal prison; most of them are charged with additional counts of fraud and identity theft.
Rudy Leo Aguilar is also charged in a separate case that alleges he distributed nearly 2 pounds of methamphetamine. Two other defendants are charged in a related methamphetamine trafficking case: Gustavo Uribe Meza aka "Big Boy" or "Goose," 24, of Whittier; and
Peter Chiapparine aka "Uncle Pete," 72, of South Gate. And yet another defendant – 35-year-old Norman Aguilar Jr. aka "Flea," who is Leo Aguilar's brother, of Norwalk – is charged in another indictment alleging he sold about 3.6 kilograms of methamphetamine and violated federal firearms laws.
Most of the defendants are gang members and convicted felons, the news release stated.
The indictment was filed April 1.
Those 11 defendants arrested in the morning appeared in federal court in downtown Los Angeles Tuesday afternoon, each entering a not guilty plea. They were all ordered to stand trial July 18.
KTLA's Alberto Mendez contributed to this article.