This is an archived article and the information in the article may be outdated. Please look at the time stamp on the story to see when it was last updated.
Divers were on Thursday searching a lake in San Bernardino several miles from the site of last week's shooting rampage in an effort to find evidence connected to the attack, the head of the local FBI office said.
The search was going on midday at Seccombe Lake Park, at 160 W. Fifth St., aerial video from Sky5 showed.
"The reason we're here searching this lake today is we did have a lead that indicated that the subjects came into this area. We have now put a dive team into that lake a logical part of covering that lead," said David Bowdich, who leads the FBI's Los Angeles Field Office, at an impromtu news conference.
He would not discuss what evidence the divers were looking for, nor what led investigators there. He said leads indicated the shooters may have come to the park.
"We're just simply seeing we're seeking evidence that had anything to do with this particular crime," Bowdich said.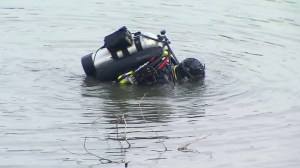 The "massive" federal investigation was continuing into the Dec. 2 shooting at the Inland Regional Center that killed 14 and wounded 21. Bowdich acknowledged the "disruption" to the area.
"If you see FBI agents out on the street, don't worry about it," he said. "It's part of the investigation, and that will continue."
One of the items the divers are possibly looking for is a missing hard drive from the shooters' computer, CNN reported. Bowdich would not confirm that.
The search of the lake could last for days, he said. Four FBI dive teams and a San Bernardino County Sheriff's Department dive team were working at the lake, he said.
The park is about 2 1/2 miles north of the Inland Regional Center.
KTLA's Jennifer Thang contributed to this article.