This is an archived article and the information in the article may be outdated. Please look at the time stamp on the story to see when it was last updated.
More than two months after Syed Rizwan Farook and his wife stormed a San Bernardino building and opened fire, killing 14 people, the FBI on Thursday executed a search warrant at a Corona home that public records showed was the residence of the gunman's older brother.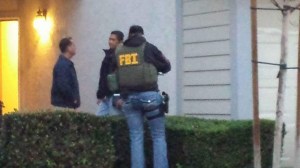 FBI officials were seen at brother Syed Raheel Farook's home, located in the 1700 block of Forum Way in Corona, Thursday morning, pictures taken by a neighbor showed.
The neighbor said FBI officials were at the home as of 6:30 a.m. They left by 10:45 a.m.
The FBI was executing a federal search warrant in connection with an ongoing investigation, and no arrests were made or planned, FBI's Laura Eimiller said.
"The affidavit in support of the warrant has been sealed by the court and we are, therefore, prohibited from commenting on the nature of the search," she said, adding that she could not confirm who lived at the home.
Another neighbor said the incident was the fourth or fifth time he had seen officials at the home.
"It's been going on since the attack in San Bernardino. We've had numerous swarms of FBI agents, homeland security and police," neighbor Stacy Mozer said.
The people who lived at the home were the "nicest people," and very friendly," he added.
"That's why I'd be very surprised if they were involved in anything," Mozer said.
The gunman, 28, and his wife, Tashfeen Malik, 29, opened fire on his work colleagues from the San Bernardino County of Health on Dec. 2, 2015.
The pair used semiautomatic rifles to kill 14 people and wound 22 others before leading police on a chase that resulted in a gun battle and their deaths.
The Islamic State Group later described the married couple as "supporters" of the terror group.
Farook's older brother was 30 years old in December, the Los Angeles Times reported at the time.