This is an archived article and the information in the article may be outdated. Please look at the time stamp on the story to see when it was last updated.
LOS ANGELES (KTLA) — The FBI confirmed on Wednesday that it was investigating a so-called "sextortion" case involving the newly-crowned Miss Teen USA and other women.
Cassidy Wolf, 18, of Temecula, won the Miss Teen USA title last weekend, after first being named Miss California Teen USA.
Apparently, someone hacked into the teen's webcam and then contacted her to extort money, claiming he had nude photos of her that he threatened to make public.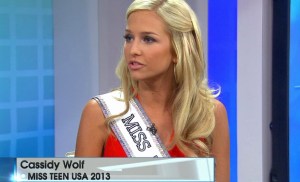 "I was cyber-hacked and cyber-terrorized about four months ago," Wolf told KTLA's sister station WPIX in New York.
"My computer and my webcam were hacked into, so I would love to be able to raise awareness," she said.
The FBI has been investigating the case for months, Laura Eimiller, spokeswoman for the bureau's Los Angeles office, said.
She declined to discuss any additional details of the case, including whether the alleged hacker and extortioner had been identified.
The incident was the latest in a recent string of "sextortion" cases involving hackers accessing compromising photos or information.
Other targets have included "A-list" actresses Mila Kunis and Scarlett Johannsen.