This is an archived article and the information in the article may be outdated. Please look at the time stamp on the story to see when it was last updated.
Surveillance video of a man believed to have tossed an explosive device into a Cheesecake Factory in Pasadena before detonating it last month was released by police on Friday as the FBI announced a reward in the case.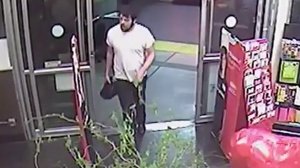 The surveillance video, released at a joint news conference between the Pasadena Police Department and the FBI late Friday morning, shows the suspect at a supermarket in the 300 block of West Colorado Boulevard. The location is down the street from where the incident occurred.
In the video, the suspect is seen wearing a white T-shirt and black pants, and carrying dark clothing that he wore during the incident before throwing it into the trash, Pasadena Police Chief Phillip L. Sanchez said at the news conference.
Deirdre Fike, assistant director of the FBI's Los Angeles field office, said the agency currently has no evidence or reason "to believe it was a terrorist attack, but again we do not know the motive."
The FBI has offered a $20,000 reward for information leading to the identify the individual or groups involved in the incident.
"You will note in the video there's some very distinctive traits about this individual, including a gait in the way he walks where his feet are turned inward," Fike noted.
The explosion happened on Feb. 2 just before 6:10 p.m., after witnesses reported that a man threw something in the restaurant located at 2 West Colorado Blvd., according to police.
The device went off inside the packed restaurant, but no one was injured.
Sabrina Vizuette, who was at work next door to the restaurant on Feb. 2, described the scene to KTLA.
"I just remember the fire alarm going off at the Cheesecake Factory and then a bunch of people were standing outside — and then a bunch of police officers came, and then some dogs, and then the SWAT team," she recalled Friday.
As customers and employees were evacuated, responding officers searched the eatery and located what was described as a "detonated homemade pyrotechnic device," investigators said.
Anyone with information is urged to call the Police Department at 626-744-4241 or the FBI at 1-800-CALL-FBI.