This is an archived article and the information in the article may be outdated. Please look at the time stamp on the story to see when it was last updated.
The U.S. attorney in Los Angeles on Friday painted a picture of government for sale as he announced that state Sen. Ron Calderon had been indicted on suspicion of taking roughly $100,000 in bribes, meals and trips in exchange for favorable legislation.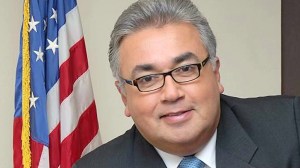 Calderon, a Montebello Democrat, who faces up to 395 years in prison, allegedly took kickbacks from former Long Beach hospital operator Michael Drobot, who perpetrated one of the largest healthcare fraud schemes in California history, U.S. Atty. Andre Birotte said Friday.
Drobot allegedly exploited state insurance law to the tune of hundreds of millions of dollars from spinal surgeries.
Calderon and his relatives also took money from people they believed were connected to a Hollywood studio that in fact was an FBI front.
Click here to read the full story from LATimes.com.