This is an archived article and the information in the article may be outdated. Please look at the time stamp on the story to see when it was last updated.
A federal correctional officer was arrested in Victorville after a girl he met in his position as a softball coach reported he had sexually assaulted her, authorities said Tuesday.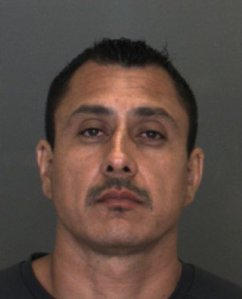 Armando Felix, 42, was arrested on suspicion of child molestation, oral copulation and penetration with a foreign object on Monday around 8:45 p.m., according to a statement from the San Bernardino County Sheriff's Department.
Officials began investigating Felix on July 20 after a woman told authorities he sexually assaulted her on several occasions when she was 15 and 16 years old, between three and four years ago.
The repeated abuse began when Felix was coaching her softball team and continued after, detectives said.
Officials did not disclose what team Felix coached or whether it was associated with a school but did say he coached juveniles for several years, leading them to believe he could have additional victims.
Detectives with the U.S. Department of Justice's Office of Inspector General were also involved in the investigation due to Felix's position as a federal correctional officer. Authorities did not state which facility he worked in, or whether he had been dismissed.
Felix was being held at the High Desert Detention Center on $100,000 bail and was scheduled to be arraigned on Wednesday in Victorville.
Anyone with information related to the investigation, or other victims, can contact San Bernardino County Sheriff's Detective Jacob Gault 909-387-3615, or submit a tip anonymously via 800-782-7463 or www.wetip.com.