This is an archived article and the information in the article may be outdated. Please look at the time stamp on the story to see when it was last updated.
A federal judge in Los Angeles has added another legal challenge to President Trump's controversial suspension of travel from a group of predominantly Muslim countries, issuing an emergency order that forbids government officials from enforcing the new rules.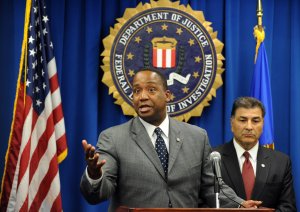 Using sweeping, unambiguous language, U.S. District Judge Andre Birotte Jr. on Tuesday night granted a temporary restraining order against the executive order Trump signed late last week.
Birotte's ruling came in a case hastily filed Tuesday on behalf of 28 Yemeni-born people. The group consists of United States citizens living here and family members who remained behind in Yemen but had received visas to come to the U.S., according to court filings.
Finding that the plaintiffs stand a good chance of prevailing when the case is heard in court and are "likely to suffer irreparable harm" if he didn't act, Birotte instructed that the plaintiffs be allowed entry into the U.S.
Click here to read the full story on LATimes.com.
Just confirmed: Fed'l judge in Los Angeles (CD Cal) issued TRO barring removal, detention, or blocking entry under visa part of Trump's ban. pic.twitter.com/bsy8NQFyVd

— Chris Geidner (@chrisgeidner) February 1, 2017