This is an archived article and the information in the article may be outdated. Please look at the time stamp on the story to see when it was last updated.
The driver of a FedEx truck that crossed the 5 Freeway and fatally crashed into a tour bus carrying Southern California high school students made an "unsafe turning" move before the 2014 crash, CHP announced Friday after a 13-month investigation.
Ten people were killed in the crash, including the FedEx driver, 32-year-old Timothy Paul Evans of Elk Grove, and the driver of the bus. Five killed on the bus, which was headed to Humboldt State University for a visit, were high school seniors, while three were their adult chaperones.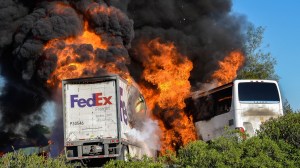 The results of the California Highway Patrol investigation did not make clear what caused Evans crossed the road. He did not brake or make any evasive steering maneuvers, according to CHP.
"The underlying cause of the crash was driver Timothy Evans ... allowing his vehicle to travel across the median in an unsafe turning movement, which is a violation of the California Vehicle Code," said CHP Sgt. Nate Parsons of the Multidisciplinary Accident Investigation Team.
Investigators determined that environmental factors, roadway conditions and vehicle maintenance did not cause the crash, CHP Northern Division Chief Ruben Leal said in a news release.
"Driver fatigue could have been a factor, but we were unable to prove that," Parsons said.
There was no conclusive evidence of a medical condition, sleepiness or fatigue contributing to the crash, Leal said.
But CHP stated that an eyewitness said Evans was slumped toward the driver's window as he approached. The crash occurred on a long, straight section of roadway, and the departure angle of the tires were "consistent with fatigue-related collisions," CHP stated.
The findings were announced at a CHP news conference at a community center in Hacienda Heights.
Survivors of the crash who spoke to KTLA said the investigation did not necessarily help them move on.
"You can say it's closure," said Evelin Jimenez, sister of teen victim Ishmael Jimenez. "But what these families feel, it will never be closure."
The fiery crash occurred April 10, 2014, near Orland, west of Chico in Northern California. In addition to the 10 killed, 39 people were injured.
The FedEx truck was traveling south when it drifted through the No. 1 lane, through the median and into northbound traffic.
The CHP findings were detailed in a 541-page report.
More video;