This is an archived article and the information in the article may be outdated. Please look at the time stamp on the story to see when it was last updated.
In an early morning raid in Los Angeles' Fashion District, some 1,000 federal and local law enforcement officers searched dozens of locations and made arrests at various businesses Wednesday in connection with investigations into alleged money laundering schemes linked to Mexican and other international drug cartels.
Los Angeles has turned into the "epicenter" of such drug money laundering operations, federal officials said in discussing what they referred to as "Operation Fashion Police."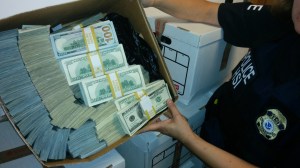 Aerial video from Sky5 showed agents rushing into businesses across the commercial and industrial downtown neighborhood.
At one location, agents found at least $35 million in cash stashed away in bankers boxes, said Assistant U.S. Attorney Robert E. Dugdale at a news conference on the takedown.
Nine people were arrested in connection with three federal indictments against them and the businesses with which they work, according to a spokesman for the U.S. Department of Justice.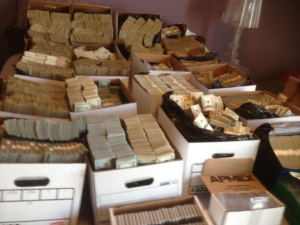 Some $65 million in cash was seized during the raid, including from various global bank accounts. Authorities displayed massive stacks of cash that were seized in the raids, which were the result of 80 search warrants, according to an FBI spokeswoman.
One of the indictments described the torture of a U.S. citizen drug distributer by the Sinaloa Cartel at a ranch in Culiacan, Sinaloa, Mexico. "Victim A" was kidnapped, held hostage and beaten, shot, electrocuted, and water-boarded at the ranch in fall 2012, according to the indictment.
The victim incurred a "debt" to the cartel when 100 kilograms of cocaine he or she and two family members intended to distribute in America was seized by U.S. federal agents.
The two relatives were forced to pay $140,000 in cash ransom for "Victim A" to Q.T. Fashion, a clothing wholesale business on 12th Street, according to an indictment.  Q.T. Fashion allegedly worked with a Mexican clothing firm called Maria Ferre to funnel the ransom money through 17 other Fashion District businesses to the cartel.
"Victim A" was released from the Sinaloa ranch when a payment was made in December 2012; the victim is currently in the U.S., federal officials said.
Q.T. Fashion owner Andrew Jong Hack Park, 56, of La Canada Flintridge; business manager Sang Jun Park, 36, of La Crescenta; and Jose Isabel Gomez Arreoloa, 49, of downtown L.A. were all arrested.
Maria Ferre, along with its owner and several employees, was also indicted. Three Maria Ferre employees from Sinaloa were wanted by authorities.
That case was one of three that focused on downtown L.A. businesses.
"Los Angeles has become the epicenter of narco-dollar money laundering with couriers regularly bringing duffel bags and suitcases full of cash to many businesses," said Dugdale, who oversees the Criminal Division in the Central District of California, in a statement. "Because Los Angeles is at the forefront of this money laundering activity, law enforcement in Los Angeles is now at the forefront of combating this issue."
The two other indictments alleged that other businesses laundered drug money using a scheme called the Black Market Peso Exchange, which involves U.S. businesses accepting illegally obtained dollars that eventually find their way through foreign business partners to drug traffickers.
Also known as Trade-Based Money Laundering, the scheme is often used by Mexico-based drug trafficking organizations to collect money from U.S. drug sales without the risk of smuggling bulk currency across the U.S.-Mexico border, according to the Justice Department.
Three member of Temple City family — Xilin Chen, 55; Chuang Feng Chen, 24, who is Xilin Chen's son; and Aixia Chen, 28, Xilin Chen's daughter — were indicted for allegedly agreeing to launder money through their two underwear companies. They allegedly took cash from an L.A. drug trafficker and from a law enforcement officer posing as a narcotics trafficker.
Aixia Chen is a fugitive, while the other two family members have been arrested, authorities said. The three Chens were also accused of lying on federal immigration documents.
In the third case, four people connected to Fashion District business Pacific Eurotex Corp. were charged and alleged to have received some $370,000 in bulk U.S. cash and deposited it into various bank accounts, an indictment stated.
Some of the cash, which arrived in four drops from an undercover agent posing as a money courier, appeared to have been spattered in blood, according to a Justice Department news release.
Those taken into custody were: Hersel Neman, 55 of Beverly Hills; his brother Morad Neman, 54, of Westwood; Mehran Khalili, 45, of Beverly Hills, the Nemans' brother-in-law; and Alma Villalobos, 52, of Arleta.
According to the indictment, the defendants had been "specifically advised by Homeland Security Investigations agents that bulk cash payments were frequently derived from illegal activity and that they were required to report cash transactions involving more than $10,000 in currency," the news release stated.
All of the suspects arrested Wednesday were scheduled to be arraigned in the afternoon at U.S. District Court.
More Video: