This is an archived article and the information in the article may be outdated. Please look at the time stamp on the story to see when it was last updated.
A 20-year-old whose body was found near a wrecked car along Highway 1 in the coastal Big Sur area was identified Wednesday as a young woman from North Hollywood who went missing alongside her boyfriend.
Olivia Hannah Gonzalez was positively identified, according to a spokesman for the San Luis Obispo County Sheriff's Office. Her family has been notified by Los Angeles police, the spokesman said.
A tan sedan was located Tuesday afternoon some 325 feet down a cliff near Ragged Point, in a rugged area about 10 miles north of the famed Hearst Castle in San Simeon, according to the California Highway Patrol. The location is near the southern end of the Big Sur.
Gonzalez's body and that of a dog were also found.
Gonzalez and 21-year-old Brian Fernandez had not been seen or heard from since Dec. 23, the day they left for a weekend getaway in Big Sur in a tan 2002 four-door Honda Civic. Two dogs were apparently with the couple at the time.
They were due back on Christmas but never returned home.
The remains of a second dog were recovered Wednesday evening, but it is unclear if it was the couple's second dog.
A dive team was on site looking for a possible second body, according to sheriff's spokesman Tony Cipolla.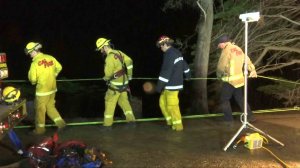 The vehicle, which remained at the crash scene overnight, was partially submerged, stuck between a cluster of large rocks near the surf line.
It's not clear how the car ended up plunging so far from the roadway. Area residents said driving along Highway 1 in the Ragged Point area can be dangerous.
Foul play is not suspected, Cipolla said.
In an interview Wednesday, Gonzalez's sister, Vanessa Guzman, broke down in tears as she described the moments after learning from CHP officials in San Luis Obispo that a car had been found.
"Yesterday when I was driving … I didn't even know what to do, I had to drive home. I was trying to race to get to my mom before she heard the news on TV," she recalled.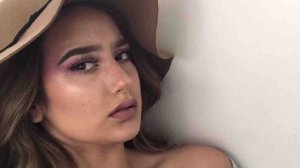 "When I heard this, I just pulled up and I took off my shoes, and I ran upstairs and grabbed my mom, because … that's our baby, that's our baby," Guzman said, sobbing. "My sister was like my daughter to me … and this is heartbreaking right now to go through this, not knowing and still waiting."
Friends and family gathered at Guzman's apartment Wednesday night to remember Gonzalez.
Fernandez's mother told KTLA Wednesday evening that she prays authorities find her son.
The last time the family heard from the couple was when Guzman's husband received a message from them, telling him they were about two hours away from their destination, she said.
A GoFundMe page for Gonzalez was created under Guzman's name Wednesday.
KTLA's Alberto Mendez and Cindy Von Quednow contributed to this story.