This is an archived article and the information in the article may be outdated. Please look at the time stamp on the story to see when it was last updated.
A reportedly pregnant, 900-pound female elephant seal was tranquilized by marine wildlife experts after she swam into an estuary and repeatedly tried to cross a state highway in the San Francisco Bay Area on Tuesday.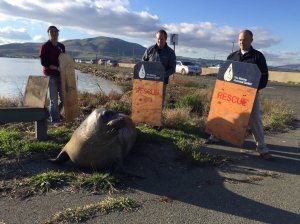 The seal was first spotted trying to cross State Route 37 near Sonoma Raceway — south of Sonoma — on Monday afternoon, according to the California Highway Patrol's Marin Office.
The seal was blocking the slow lane, motorists told CHP, according to the San Francisco Chronicle.
Along with Highway Patrol officers, staff from the Sausalito-based Marine Mammal Center responded, initially used wooden boards to coax the huge animal into open water.
The seal was turned back into San Pablo Bay but then tried to cross the highway again, tweets from CHP stated.
She could not get over the concrete center median despite repeated attempts, according to the mammal center.
If she crossed the highway, she would be unable to find water or an outlet to open water, the agency stated. The mammal center said on Facebook that a search of the other side of the highway showed nothing that could be of interest to an elephant seal, including a possible pup.
She was described by Barclay as "very large, very determined elephant seal," the Chronicle reported.
Barbie Halaska, a research assistant at the mammal center, told the newspaper: "She's a 900-pound elephant seal, and we're not. She pretty much does what she wants."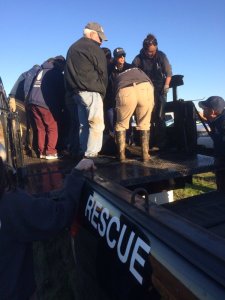 Officers were calling her "Tolay" for the name of the creek from which she arrived, CHP tweeted.
On Tuesday afternoon, mammal center staff continued to try to guide the seal from a kayak in an attempt to get her swim into the open water. The seal did not appear to want to move.
"So far… the seal and the kayak are still in negotiations," the Marine Mammal Center said in a tongue-in-cheek Facebook post. "Neither party has reached an agreement."
The animal was subsequently sedated, lifted by at least half-a-dozen rescuers and loaded into the bed of a pickup truck, "so we can relocate her near an elephant seal rookery nearby," according to a later post.
The Chronicle reported that the sedation occurred after Tolay was stuck with a pole-mounted tranquilizer, adding that officials then confirmed her pregnancy by conducting an ultrasound.
We are on scene with a sea lion that was trying to cross SR 37 E/ of SR 121. Roadway is clear but traffic is heavy. pic.twitter.com/gVfXvAdOyt

— CHP Marin (@CHPMarin) December 28, 2015
We are still on scene SR 37 E/ of SR 121 with a sea lion that wants no part of us. Rdwy clear but traffic is heavy pic.twitter.com/q2VfypMQI4

— CHP Marin (@CHPMarin) December 28, 2015
With the sun setting and he tide dropping our elephant seal adventure continues. Hoping she returns to open water. pic.twitter.com/r3Y5j36vod

— CHP Marin (@CHPMarin) December 29, 2015
Pic from a few mins ago. @TMMC herding the #elephantseal from the hwy. Both parties still in negotiations pic.twitter.com/mHsGeyHyGY

— The Marine Mammal Center (@TMMC) December 29, 2015
HIGHWAY SEAL UPDATE: tide is up and she's moved but is sticking close to shore. @TMMC hoping she hauls out soon. pic.twitter.com/iKVHNQDixP

— Kale Williams (@sfkale) December 29, 2015
#highwayseal has crossed under 37 via a creek viaduct. Stuck in an aqueous cul de sac for the moment. pic.twitter.com/Ebwvbql5FN

— Kale Williams (@sfkale) December 29, 2015