This is an archived article and the information in the article may be outdated. Please look at the time stamp on the story to see when it was last updated.
A female hiker and her dog were rescued Friday after falling 800-feet over the side of a cliff in the forest above Altadena, officials reported.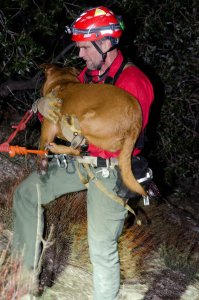 The Altadena Mountain Rescue Team responded to Mt. Lowe Fire Road in the Angeles National Forest about 3:30 p.m. after receiving a report about a person yelling for help, the Los Angeles County Sheriff's Department reported. A sheriff's helicopter located the female hiker, who fell about 800-feet over the side of the cliff, just south of Muller Tunnel, the sheriff's department said in a news release.
The hiker was flown to a local hospital and treated for hypothermia.
The dog who was with the hiker, described as a 40-pound pit bull mix, originally had to be left behind by the flight crew as they were unable to secure the dog, officials said.
Rescue members made a second attempt and tried to hike to the dog but were unable to due to the steep terrain.
On a third attempt, two members of the Altadena Rescue Team were flown into the area by the sheriff's Air Rescue 5 helicopter and tried to secure the dog in a harness but he grew uncooperative. Rescuers set up hundreds of feet of rope and were finally able to hoist the dog up the roadway to safety, officials said.
A civilian volunteer was injured during the rescue when a large rock fell about 40-feet and struck him, knocking the headlamp off his helmet.
The volunteer was taken to a local hospital and treated for a fractured finger.