This is an archived article and the information in the article may be outdated. Please look at the time stamp on the story to see when it was last updated.
A female pedestrian was fatally struck by a car that was likely speeding in Sylmar on Tuesday evening, the Los Angeles Police Department reported.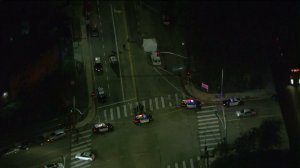 The crash happened about 6:35 p.m. in the area of Foothill and Glenoaks boulevards, police said. The pedestrian, who is described as a Hispanic woman in her early 40s, had the right-of-way as she walked northbound on Glenoaks Boulevard, police said.
"That pedestrian was struck and either rode on that vehicle or was launched approximately 100-feet west of this crosswalk," Detective Bill Bustos of LAPD's Valley Traffic Division told KTLA.
Police say there were no skid marks in the area of the deadly crash, and it appears the driver was speeding and did not try to stop.
Investigators are working to gather surveillance video from an MTA bus that was in the area when the deadly crash took place.
The driver's vehicle was described as a possibly black, 4-door Saturn which will likely have front-end damage, police said.
KTLA's Nidia Becerra contributed to this story.