This is an archived article and the information in the article may be outdated. Please look at the time stamp on the story to see when it was last updated.
The Thomas Fire, burning for a second week in Ventura and Santa Barbara counties, continued to grow at a slower pace as containment increased to 30 percent on Wednesday, officials said.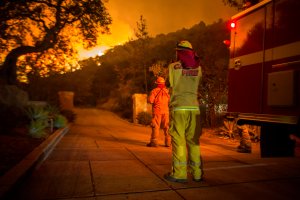 The blaze that started last Monday, Dec. 4, now spans 238,500 acres — about 2,200 more than the previous day — and is still threatening around 18,000 homes in Carpinteria, Summerland, Montecito and Santa Barbara, according to Cal Fire.
By Wednesday afternoon, some evacuation orders were lifted for areas of Santa Barbara County between U.S. 101 and the Pacific Ocean, and from Santa Claus Lane at Padaro Road east to Rincon Beach Park, Cal Fire said. Meanwhile, a mandatory evacuation order was changed to a warning for areas of Rincon Beach.
Mandatory and voluntary evacuations orders for the city of Ventura were lifted at 6 p.m., with the exceptions of the areas north of Foothill Road between Cobblestone Drive and North Kimball Road.
Firefighters were continuing to battle forceful Santa Ana winds after a red flag warning was extended into Friday morning by the National Weather Service. It is the longest period that red flag warnings have been in effect since the weather agency began tracking the winds in 2004.
The gusty Santa Ana winds were also coming up against terrain-driven winds, officials said.
Continuing dry conditions were adding to firefighters' troubles. It has been more than 250 days since it rained in the area, and the chaparral there hasn't burned in nearly 60 years, the Ventura County Fire Department said.
"Very high fuel loading, critically low fuel moistures, above average temperatures and single-digit relative humidities" will continue pushing the flames west, east and north, but most significantly to the west, Cal Fire said in its Wednesday morning update. Fire crews were still concentrating on saving homes and would work on establishing perimeters when possible.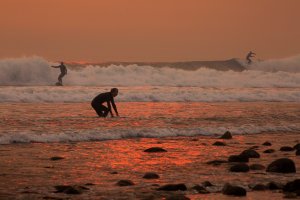 They were also working to mop-up hotspots in previously burned areas to allow residents to return home as quickly as possible, officials said. The area between Fillmore and Ventura along Highway 126 would continue to be patrolled.
Firefighters could not estimate when the blaze will be contained.
So far, the flames have consumed more than 700 homes and claimed the life of a 70-year-old Santa Paula woman whose body was discovered in a vehicle along evacuation routes. Another 164 homes hvae been damaged, according to Cal Fire.
Nearly 8,000 crew members remained on the fire lines Wednesday. The battle against the blaze has cost a total of $61.5 million thus far, officials said.
A community meeting for Santa Barbara residents will be held every day at 4 p.m. until further notice at San Marcos High School, located at 4750 Hollister Ave.
The following evacuation information is as of Wednesday morning:
Mandatory evacuations:
• Carpinteria, Montecito, Santa Barbara and unincorporated areas: From east at Mission Canyon Road to west from Highway 150, and north of Highway 192 at East Camino Cielo; evacuations for areas of Rincon, including Rincon Beach Park, Rincon Point Road, Rincon Point Lane, Buena Fortuna Street and Puesta Del Sol
• Ventura: North of Foothill Road from Day Road to Kimball Road
• Entire community of Casitas Springs
• Unincorporated Ventura County: Residents and day visitors of Rose Valley; residents of Matilija Canyon
Voluntary evacuations:
• Ojai: Casitas Pass Road east to Highway 33, Spring Street to Loma Drive. (Includes Rice Road east to Loma Drive, Baldwin Road north to Besant Road)
• Unincorporated Fillmore area: Sespe Creek to the west, Burson Ranch to the east, Fillmore City limits to the south, and Los Padres National Forest boundary to the north
• The entire communities of Carpinteria and Summerland from south of Highway 192 to the Pacific Ocean; areas of Rincon, including Rincon Beach Park, Rincon Point Road, Rincon Point Lane, Buena Fortuna Street and Puesta Del Sol
• Montecito: Between 101 Freeway and Highway 192
• Santa Barbara: Between Highway 192 and S. Salinas Street
Evacuation centers:
• Ventura: Ventura County Fairgrounds at Miners Building
• Oxnard: Oxnard College Gymnasium
• Goleta: UCSB
• All animal evacuations are being handled at the Ventura County Fairgrounds located at 10 W. Harbor Blvd. in Ventura
For more information, go to CountyofSB.org or ReadyVenturaCounty.org.
[googlemaps https://www.google.com/maps/d/embed?mid=1ASoCEnK1yHaI2Of55E92EXF69JdFdIp-&hl=en&w=640&h=480]
#ThomasFire - Fire behavior above Bella Vista Dr near Romero Canyon in Montecito Tuesday night. pic.twitter.com/SUmzrCYu4V

— SBCFireInfo (@EliasonMike) December 13, 2017
Additional smoke impacts across southeast #SantaBarbaraCounty and #VenturaCounty today from the #ThomasFire. Some areas along the Ventura coast may see more smoke than in recent days. #CAwx pic.twitter.com/dDrAhZJuAZ

— NWS Los Angeles (@NWSLosAngeles) December 13, 2017
#ThomasFire update 12-13-17 @7am pic.twitter.com/lq57Ncil9h

— VCFD PIO (@VCFD_PIO) December 13, 2017
Still looking for an N-95 mask? Free masks are available at several sites on Wednesday, Dec. 13. Visit https://t.co/bjEUdUoCpk to find the distribution site nearest you. The list includes the times to get one. #thomasfire pic.twitter.com/mhk4YP8X7X

— Santa Barbara County (@countyofsb) December 13, 2017