This is an archived article and the information in the article may be outdated. Please look at the time stamp on the story to see when it was last updated.
POMONA, Calif. (KTLA) — One person was killed and at least 9 others injured Monday night after a fiery big rig crash involving several vehicles on the 10 Freeway in Pomona.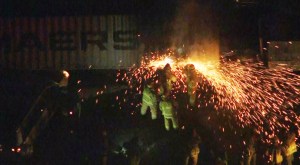 The crash was reported at 8:12 p.m. on the eastbound 10 Freeway near Towne Avenue, according to the California Highway Patrol.
The big rig collided with several other vehicles one of which became trapped under the truck and exploded, CHP officials said.
The freeway was shut down in both directions as rescuers tried to pull trapped motorists from their burning vehicles.
At least 9 people were injured, four of them critically, according to L.A. County Fire officials.
Aerial footage from Sky5 showed some of the injured being airlifted to the hospital.
As of 10 p.m. all westbound lanes were open. The eastbound lanes could remained closed for several hours, CHP officials said.