This is an archived article and the information in the article may be outdated. Please look at the time stamp on the story to see when it was last updated.
A crash on the 60 Freeway near Riverside late Friday morning caused a truck to burst into flames, leaving its occupants severely injured.
The collision occurred on the eastbound freeway in Jurupa Valley, just west of Pedley Road, the California Highway Patrol stated in a news release.
Shortly after 10:15 a.m., a 1993 Dodge pickup truck began to slow to a stop while traveling in the freeway's far left lane, CHP officials said. A 44-year-old man was driving the truck, with a 29-year-old female in the passenger seat.
A 25-year-old female in a 2012 Lexus sedan was driving directly behind the pickup truck at 65 to 75 mph when she crashed into the slowing truck. It was not clear why the truck slowed, CHP said.
"The … Lexus driver allowed her vehicle to collide with the rear of the Dodge," said CHP public information officer Travis Monks.
According to Lawrence J. Sanchez, a UPS driver who witnessed the collision from an adjacent lane, the pickup truck burst into flames on impact.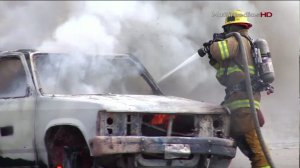 Sanchez was one of many witnesses who rushed from their vehicles to attempt to remove the two victims from the truck.
"When [the truck's female passenger] finally got up, her whole head was on fire. So I sprayed the fire extinguisher at her face to put all of the flames out around her head," Sanchez said. "My fire extinguisher wasn't that big, so I did the best I could. And by that time, the [other people helping] forced her out and grabbed her and put her down on the ground."
"It was horrific — the most horrific thing I've seen in an accident — and I've been driving almost 30 years," Sanchez added.
Shortly after the collision occurred, CHP shut down all four lanes of the eastbound 60 Freeway, bringing traffic to a complete standstill. Cars remained stopped for over than an hour as fire engines, ambulances, and a MedEvac helicopter arrived at the scene.
The pickup truck's female passenger sustained the most serious injury of the three victims, according to Monks. She was evacuated by an emergency helicopter to Arrowhead Regional Medical Center in Colton for "critical burns," he said.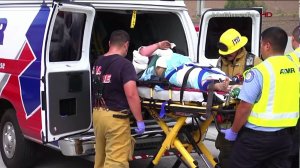 Both the drivers of the pickup truck and Lexus were taken by an ambulance to Riverside Community Hospital. The driver of the pickup truck was treated for burns, while the Lexus driver's injuries are still unknown, according to Monks.
All lanes reopened at approximately 11:45 a.m., he said.