This is an archived article and the information in the article may be outdated. Please look at the time stamp on the story to see when it was last updated.
A fiery crash closed multiple lanes on the southbound 405 Freeway in Carson, heading into Long Beach, early Tuesday morning, officials said.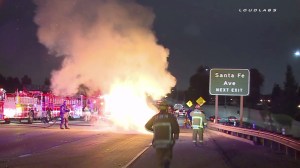 The crash caused four lanes near Alameda Street to be closed and a Sig Alert to be issued, the California Highway Patrol tweeted around 4:30 a.m. A fifth lane was later said to be blocked.
Although CHP initially tweeted the Sig Alert was expected to be lifted by 5:30 a.m., CHP Officer Rubio later said it was extended for at least an hour.
As of 7:30 a.m., one right lanes remained blocked, CHP tweeted.
Drivers leaving the Los Angeles International Airport were warned the closure could impact their drive, the L.A. Airport Police Department tweeted.
Video of the crash's aftermath showed heavy smoke and flames coming from a vehicle, and sparks flying as firefighters attempted to contain the blaze.
Sky5 aerials showed there were no flames as of 5:15 a.m.
It was unclear if multiple vehicles were involved in the collision, but CHP logs indicated at least one vehicle was found fully engulfed in flames.
Check back for updates on this developing story.