This is an archived article and the information in the article may be outdated. Please look at the time stamp on the story to see when it was last updated.
Several "Fight for 15" protesters were taken into custody Tuesday morning after members of the group sat and blocked an intersection in downtown Los Angeles.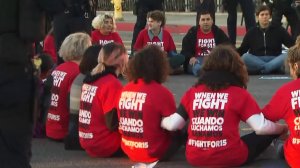 Hundreds of activists began marching outside a McDonald's in downtown Los Angeles early Tuesday before a smaller group sat down and blocked the East 7th Street and Alameda Street intersection just before 7 a.m.
Video from the scene showed officers wearing crowd control gear taking some of the protesters into custody after they refused to leave the intersection.
About 40 people were taken into custody for failure to disperse, said Los Angeles Police Department Detective Meghan Aguilar.
Those who can show valid identification and be verified will be cited and released, but those who cannot will be booked and jailed, Aguilar said.
The effort is part of a broader "Day of Disruption" planned by the activist group, which advocates for raising the minimum wage.
Although some states, including California, have already approved a $15 minimum wage increase, nationwide demonstrations are taking place Tuesday, the fourth anniversary of the movement.
Demonstrators at LAX are expected to hold a rally on the sidewalks and terminals of the airport at noon, the Los Angeles Times reported.
Travelers were warned to expect longer than usual delays at the airport due to the demonstrations.
In Chicago, hundreds of workers at O'Hare International Airport have gone on strike.
Janitors, baggage handlers, cabin cleaners and wheelchair attendants are asking for a $15 hourly wage. Some currently make $10.50 an hour, which is the minimum wage in Chicago.
The Chicago Department of Aviation said it does not believe the work stoppage will affect flights in or out of the nation's second busiest airport. Federal employees, including air traffic controllers and security screeners, are not joining the strike.
Concurrent rallies will take place at nearly 20 airports around the country.