This is an archived article and the information in the article may be outdated. Please look at the time stamp on the story to see when it was last updated.
Property owners who try to block access to public beaches could soon be facing stiff fines, thanks to a newly passed law designed to protect the public's ability to enjoy California's coastline.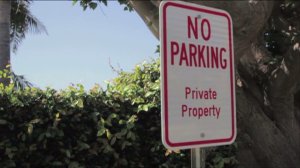 On Friday, Gov. Jerry Brown signed a bill that would allow the California Coastal Commission to fine property owners who block access to beaches, whether through phony signs or putting padlocks on access gates.
Before the bill was passed, the Coastal Commission would have to take property owners to court if they did such a thing. Now, however, they can slap them with a hefty fine.
Those who fail to pay the fine could potentially have a lien be put on their property.
Some were happy to hear about the newly passed law.
"People should be able to protect their homes, but I don't think they should keep people from coming to the beach," a longtime Malibu beach-goer told KTLA.
Another beach-goer, Darya Fesechka, added, "I think they should be fined. Everybody should he able to visit it."
But others called it unfair. They said the public sometimes abuses the beaches, leaving trash, urinating near their homes, or even starting bon fires under their decks.
"I think its a breach on people that have worked so hard and strived for many years to have a beach property," said one opponent of the law.
The new bill was slipped through as part of a $108 billion state budget package.