This is an archived article and the information in the article may be outdated. Please look at the time stamp on the story to see when it was last updated.
CALABASAS, Calif. (KTLA) — A fast-moving car fire that spread into brush along the 101 Freeway in Calabasas was 40 percent contained as of Monday morning.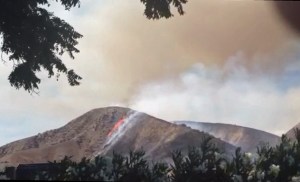 The blaze, which broke out around 3 p.m. on Sunday, had scorched about 170 acres, officials said.
Three westbound lanes of the freeway were shut down near Las Virgenes for hours on Sunday, causing a major traffic jam.
As firefighters got a handle on the blaze, the California Highway Patrol was able to reopen all lanes by about 10 p.m.
Some homes were threatened by the flames, but none were damaged, and no evacuations were ordered.