This is an archived article and the information in the article may be outdated. Please look at the time stamp on the story to see when it was last updated.
Officials were investigating Monday the cause of a fire at a 10-acre pallet yard in Fontana that took 63 firefighters to extinguish and caused $1 million worth of damage.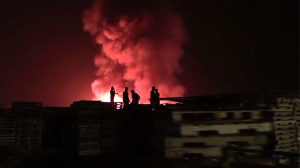 The three-alarm blaze was reported around 9:50 p.m. Sunday in the 13800 block of Slover Avenue (map), said Tracy Martinez, spokeswoman for the San Bernardino County Fire Department.
Although there was a danger that the flames may spread to nearby homes or vegetation, it was confined to the pallet yard and no structures were damaged.
Ten passenger vehicles and 31 big rigs were destroyed by the blaze.
Firefighters were able to save $5 million worth of property, Martinez said.
It took two hours, 63 firefighters and 40 hand crew personnel to put out the blaze.
No injuries were reported.