This is an archived article and the information in the article may be outdated. Please look at the time stamp on the story to see when it was last updated.
Fire officials are investigating whether a fire ignited at a Boyle Heights church early Thursday morning was an incidence of arson, and looking into whether it could be connected to other recent incidents.
Firefighters first responded to the flames that broke out at Resurrection Catholic Church on the 3300 block of East Opal Street just after 2 a.m., said Capt. Erik Scott with the Los Angeles Fire Department.
It took 62 firefighters just under 30 minutes to extinguish the blaze.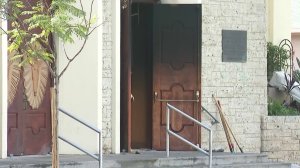 The inferno sparked on the first of the church's two floors and was mostly contained there, charring the main entrance and vestibule, or a small antechamber containing candles.
Candles were lit in the vestibule at the time of the fire, officials said; in Catholic churches, votive candles are customarily lit 24 hours a day as a dedication to religious figures and the dead. But firefighters said the candles were burning in a manner consistent with fire code standards.
The worship area itself was not damaged and no injuries were reported, officials said.
After the flames were knocked down, firefighters discovered vandalism on both the interior and exterior, including to some statues that surround the structure's exterior.
Arson detectives are "looking at certainly the vandalism that took place, the fire spread, that it was not occupied at the time, and other things," Scott told KTLA.
The House of Worship Task Force — which includes LAFD, the L.A. Police Department, the L.A. County District Attorney's Office, the FBI and the Bureau of Alcohol, Tobacco, Firearms and Explosives — was responding to sift through debris, look at burn patterns and speak with witnesses, Scott said.
Fire officials had also worked to salvage artifacts and remove water that had flooded the church during the fire.
A pre-Kindergarten through eighth grade campus is also located on the same property but was not damaged, and investigators say the children are safe. School was in regular session on Thursday.
Frank Naranjo told KTLA he and his fiancee, Alicia Torres, had planned to wed at Resurrection Church on Saturday. The couple, both of whom grew up and continue to live in East Los Angeles, is devastated.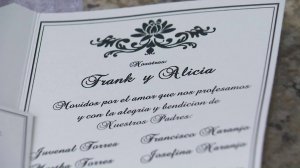 "We're getting married in less than 48 hours, so at this point we're just in shock," Naranjo said. "We just don't know what to say."
Although Naranjo originally believe the wedding would go on in a different location, he and Torres later informed KTLA it had been cancelled.
"It's really sad," Naranjo said. "We went through all this planning for over six months, family coming from out of town and out of state. They're here now and there's no church."
California Assemblymember Miguel Santiago issued a statement saying he and his wife are congregants. He said found the news "heartbreaking" and called the church the "heart of Boyle Heights."
"It is the community's meeting center; the lifeblood of Boyle Heights in the food, services, education, and shelter it provides to our residents," he wrote. "I know that none of that will change moving forward. Our community will rebuild and be stronger than ever."
Santiago also pledged to help bring those involved to justice. Similarly, L.A. City Councilmember Jose Huizar issued a statement saying he had been in contact with investigators and church leader Monsignor John Moretta.
Authorities are still searching for those responsible for setting fire to a 129-year-old church in Pasadena earlier this month.
Vandalism was also involved in that incidence, which occurred at an Episcopal church, according to the Los Angeles Times. The graffiti spray-painted on that church's sidewalk can be further connected to similar markings left at a San Fernando church in November 2016, the newspaper reported.
Last February, West Covina police opened a felony hate crime investigation after a church there was vandalized with graffiti on its walls, statues and pavement.
A GoFundMe campaign has been set up to help Naranjo and Torres plan a new wedding.