This is an archived article and the information in the article may be outdated. Please look at the time stamp on the story to see when it was last updated.
A fire at a business in Sun Valley on Monday was knocked down, with no injuries reported as officials investigate the source of the blaze, authorities said.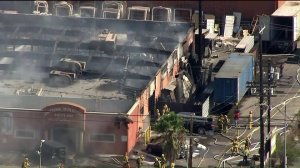 The fire happened at a business called Universal Iron Doors and Hardware in the 11000 block of Tuxford Street, near Lankershim Boulevard, officials said. A 911 call about the fire came in at about 2 p.m.
Ten employees were inside the building when the fire started, but all were able to leave and no one was injured, officials said. The fire was put out within an hour, they said.
Footage of the scene showed the building's entire roof scorched off, with just skeletal remains of the upper building left.
"This was a large one-story commercial building that was building iron doors for businesses and for homes," Capt. Erik Scott of Los Angeles Fire Department said. "So there's a large amount of wood and iron inside, in addition to the roof that had burned off."
Scott said firefighters were able to extinguish the blaze by using "defensive" tactics, pouring water "from the outside in." No other structures were damaged, he said.
Authorities are still investigating the cause of fire.