This is an archived article and the information in the article may be outdated. Please look at the time stamp on the story to see when it was last updated.
Multiple units at a Fullerton condominium were destroyed and dozens of residents waited to learn if they would be able to return home Sunday night after a fire ripped through the complex, officials said.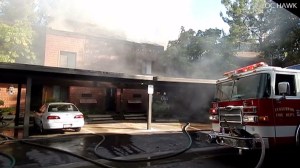 A fire was reported at a residence in the 2700 block of East Quail Circle (map) around 5:14 p.m., Fullerton Fire Department officials said.
The blaze was later said to be a four-alarm blaze.
Video showed dozens of residents looking on as firefighters used hoses to extinguish the fire - knocking it down by 7:18 p.m., Fullerton officials tweeted.
One resident said her family was celebrating Mother's Day when they learned of the fire.
"Someone came banging on my front door … and said 'fire, get out,'" resident Connie Baugh said.
Baugh said her own son attempted to use a hose to put out the fire, when "all of a sudden it just burst into flames."
Another resident, Vincent Williams, said that he was only able to save his cat.
"We made it out here just in time to see all our stuff go up in flames," Williams said.
Four units were believed to have been destroyed and some four others damaged, officials said.
Power remained out at the complex as of 10 p.m., and dozens of residents waited in their vehicles for the news that they could return home.
Some residents said they thought the fire started in a specific unit, and its occupants were not home when it broke out.
The cause was under investigation.
Great work by @FullertonFire and others on scene.....fire knocked down pic.twitter.com/QlZ60KLlXh

— FullertonPD PIO (@FPDPIO) May 11, 2015