This is an archived article and the information in the article may be outdated. Please look at the time stamp on the story to see when it was last updated.
Eight people were displaced, one of whom was hospitalized in fair condition Wednesday morning, after a "stubborn" fire broke out at a Highland Park home that was more than 100 years old, according to the Los Angeles Fire Department.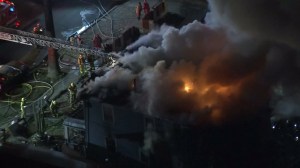 Firefighters responded to a call around 4:30 a.m. regarding a structure fire in the 100 block of South Avenue 54, near the area's highly populated North Figueroa Street, a fire official at the scene said.
All eight people who lived in the home were outside when officials arrived.
A 65-year-old man was transported to the hospital in fair condition, according to firefighters. Additional information on his condition was not immediately available.
A firefighter also sustained a minor injury.
The responding firefighters witnessed visible flames, and the fire had damaged one or two rooms on the first floor.
The "balloon construction" of the older-model home caused flames to travel up to the second story of the wood-framed building, the fire official said.
The structural integrity of the second floor was then compromised, prompting firefighters to go into a defensive mode.
The fire was knocked down by 8:30 a.m., the Fire Department stated in a news release, but its brick fireplace was at risk of collapse and the scene would remain active for an "extended period."
The cost of damage and cause of the blaze was under investigation.