This is an archived article and the information in the article may be outdated. Please look at the time stamp on the story to see when it was last updated.
Firefighters on Sunday evening extinguished a "major emergency fire" that had raged for more than two hours at a recycling yard in Sun Valley, burning several stacks of junked vehicles but leaving nearby structures unscathed, according to officials.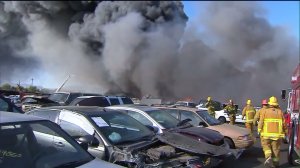 More than 150 firefighters began responding shortly before 4 p.m. to the facility in the 9100 block of North Tujunga Avenue, where the fire was being fanned by 5-10 mph winds, the Los Angeles Fire Department said in a statement.
No one was injured, according to the agency, and no structures were damaged by the flames.
About two hours after incident began, firefighters continued to use large hose-streams as they made headway against the blaze, LAFD spokesman Rick Scott said.
In addition to the wind, which made the firefighters' task "very challenging," they had to "negotiate a water-supply issue," LAFD Assistant Chief Gregory Reynar said. "If you're aware of auto dismantlers and junkyards, obviously they don't have a lot of hydrants many times. So we had bring in water from hydrants outside the property."
Photos and videos posted by witnesses on social media show a massive plume of thick black smoke rising above the San Fernando Valley.
The smoke "just blocked out the sun," photographer Nick Colbert said. "You couldn't see anything else."
Periscope: Firefighters Battle Raging Inferno at Sun Valley Recycling Yard
A Periscope video shows firefighters inside the recycling yard dousing water on the wind-swept inferno, fueled by what the LAFD described as "large piles of tightly stacked vehicles." Meanwhile, two of their colleagues use electric saws to cut through a nearby wall, presumably to improve access to the flames.
The fire was knocked down just before 6:30 p.m., the LAFD said. Firefighters were expected to remain at the scene overnight to ensure that "no significant flare-ups" occurred, Scott said.
The cause of the incident was not immediately known.