This is an archived article and the information in the article may be outdated. Please look at the time stamp on the story to see when it was last updated.
A brush fire in Elysian Park grew to a half acre on Friday morning and prompted the temporary closure of two lanes on the 110 Freeway.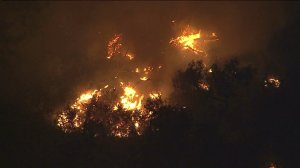 Firefighters battled the blaze, which burned near 835 Academy Rd., with both ground and air crews, the Los Angeles Fire Department tweeted.
The fire was first reported around 4:45 a.m. as a grass fire, but it "quickly escalated" to a half-acre brush fire, Deputy Chief Phillip Fligiel said.
The area was known to be a homeless encampment, Fligiel added. Details on the cause of the fire were not immediately known.
About 60 firefighters worked more than an hour to extinguish the blaze, the Fire Department tweeted.
Two water-dropping helicopters aided in the firefight, and by 5:40 a.m. the department tweeted that firefighters had a "good handle on the fire." It was knocked down by 6 a.m., according to Fligiel.
The blaze burned near the 110 Freeway's Academy Road off-ramp, aerial footage showed, and two right lanes on the northbound side of the freeway were closed. The lanes were expected to reopen shortly after 6 a.m.
The incident occurred during a wind advisory issued by the National Weather Service, which predicted 10 mph winds, with gusts as high as 15 mph overnight in the area.