This is an archived article and the information in the article may be outdated. Please look at the time stamp on the story to see when it was last updated.
Firefighters  knocked down a major fire that erupted at the Chevron refinery in El Segundo Tuesday night, authorities said.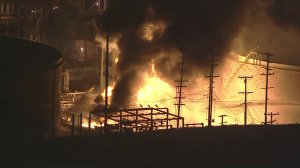 It was not immediately clear what sparked the massive inferno, which started about 10:30 p.m., according to a news release from the company.
Sky5 aerial video over the scene showed the raging fire coming dangerously close to power lines as firefighters attempted to extinguish the blaze with water and foam. It was not immediately clear if power in the area was impacted.
Bright, orange flames and thick plumes of black smoke were visible from at least several miles away at the Los Angeles International Airport, an LAX camera showed.
The smoke was blowing into nearby residential areas, prompting the El Segundo Police Department to issue an alert and warn residents to close their doors and windows.
Around 11:15 p.m., firefighters appeared to have gained the upper hand on the blaze, and it appeared to have been knocked down a few minutes after that, video over the scene showed.
The fire was officially extinguished at 11:18 p.m., according to the news release.
The fire prompted the temporary closure of Vista Del Mar between 45th Street and Grand Avenue, police said in the alert.
Around midnight, police stated that although the fire appeared to be out, the road would remain closed because of downed power lines in the area.
While no cause for the fire was announced, Chevron did issue a statement regarding the incident.
"Chevron's primary concern is to ensure the safety of its employees and the surrounding community and the environment. Chevron is working very closely with the local agencies to ensure that we meet those expectations in responding to this incident," the statement read.