This is an archived article and the information in the article may be outdated. Please look at the time stamp on the story to see when it was last updated.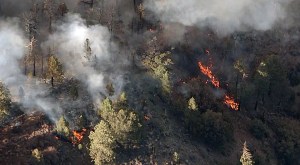 WRIGHTWOOD, Calif. (KTLA) — A wildfire erupted in near the mountain community of Wrightwood on Thursday triggering mandatory evacuations.
The so-called Sharp Fire broke out just after 12 p.m. north of Wrightwood.  It had burned 60 acres as of 11 p.m.
The evacuations were ordered for Mojave Scenic drive, East Canyon, Lone Pine (South of) to Buckthorn, Slippery Elm and Mahogany Road, according to San Bernardino County Fire officials.
The Red Cross has established an evacuation center at Serrano High School on Sheep Creek Road in Phelan.