This is an archived article and the information in the article may be outdated. Please look at the time stamp on the story to see when it was last updated.
Firefighters were investigating a suspicious fire that destroyed three structures in the Agua Dulce area of Santa Clarita Monday morning.
L.A. County fire crews were on the scene at 12620 W. Sierra Highway before 4 a.m. after witnesses reported hearing explosions around 3:30 a.m. coming from the garage on the property that houses a $1-million classic car collection.
The blaze also spread to surrounding brush, but the flames' forward progress was held at 3 acres by 6 a.m. and firefighters were monitoring embers to prevent hot spots from flaring up, according to L.A. County Fire Supervisor Robert Diaz.
It took 100 crew members about 30 minutes to extinguish the flames, Battalion Chief Mark Whaling said.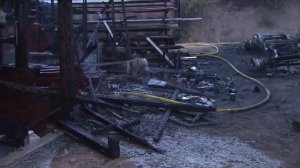 The fire likely broke out in a two-story living area next to the garage and eventually destroyed the garage, living quarters and a mobile home, according to Whaling. Another home about 50 feet away was not damaged, he added.
Arson investigators were on scene Monday morning amid reports from the homeowner and nearby residents that they heard explosions and gunshots in the moments leading up to the destruction.
The homeowner, Arnie Verbiesen, said he had been engaged in a long-running dispute with a tenant in a living space adjacent to the garage for about eight months.
The tenant, who was ordered to vacate the property, had previously threatened arson, according to Verbiesen.
"I just talked to my neighbor and he said that he told somebody that on his way out of here he was going to torch this place," he said.
Verbiesen said he heard two shots fired around 7 p.m. Sunday — the same time his surveillance cameras went out. KTLA crews observed a bullet hole in one of the vehicles on the property.
Then, in the morning, Verbiesen awoke to find his car collection — his life savings — destroyed.
"I was asleep. I'm getting ready to go do my cancer therapy," he said. "I locked everything up in the shop."
The tenant, identified only as Gary, said he used to work for Verbiesen and categorically denied neighbors' charges he should be in custody.
"No way, no way," he said. "This Arnie guy, he's nuts man."
Both parties have taken legal action, according to Gary.
"He's taking me to court, I'm taking him to court," he said.
Firefighters had asked the man to stand by, however, and were conducting an investigation.
Michael Forrest, who also lives in the area, told KTLA the sound of explosions woke him up in the early morning hours.
"Multiple, multiple explosions," he said. "My wife heard them first and she said, 'Let's get the animals and get the hell out of here.'"
The damage was a huge loss for the homeowner, who among the valuable cars lost were five Porsches and an MG RV8, and only one of the vehicles was insured.
"I lost everything I've worked for all my life," he told KTLA. "I'm 73 years old. I retired, put my car collection together, and it's gone."