This is an archived article and the information in the article may be outdated. Please look at the time stamp on the story to see when it was last updated.
Firefighters responded to fire at a home in Pacific Palisades where flames had consumed the attic Wednesday.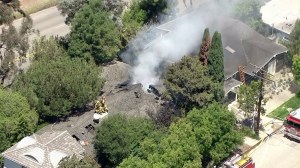 The blaze was reported at 11:35 a.m. at 523 Las Casas Avenue (map), according to Erik Scott with the Los Angeles Fire Department.
The one-story home's attic was "well involved in fire," Scott said. Firefighters could be seen working on the roof of the home, where the fire appeared to have burned through.
Additional firefighters were requested, Scott said in an update. Forty firefighters knocked down the blaze in 47 minutes, he said.
Nearly a dozen LAFD emergency vehicles responded to the scene, aerial video showed.