This is an archived article and the information in the article may be outdated. Please look at the time stamp on the story to see when it was last updated.
Crews were working to extinguish a growing brush fire in the Glendale area that was estimated to have burned some 150 acres on Sunday afternoon, officials said.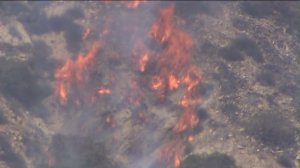 The blaze, which broke out around 12:30 p.m., was burning in the hills above Brand Park (map), according to officials.
So far, no structures have burned and no evacuations were expected, the city of Glendale tweeted.
There were homes located near the area where the fire was burning, but officials said none of them were at risk.
No injuries have been reported, but three hikers had to brought down from the trails and were treated for dehydration,  a separate tweet from the city of Glendale stated. The conditions of two other hikers in the area were being assessed.
The fire was initially reported to have burned 10 acres around 1 p.m., but within three hours had spread to about 50 acres, according to Glendale city officials. By early evening, officials estimated the acreage at 150.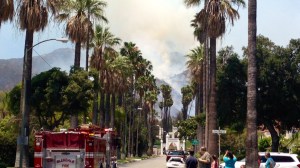 The Los Angeles County Fire Department was working with the Glendale Fire Department to put out the blaze.
Five airships were battling the blaze, while about 100 multi-agency group crews  were doing "hand work and neighborhood protection," city officials from Glendale said.
The fire was burning in the rolling hills near the 31-acre park, which was dense with brush and known for its hiking and bike trails. Steep terrain in the area also presented challengers to firefighters.
Weather in the area on Sunday was considered fair, with calm winds and temperatures around 75 degrees, the National Weather Service reported.
The fire broke out in the midst of a statewide drought that led to a high number of wildfires in California in 2014.
The cause of the fire is under investigation.