This is an archived article and the information in the article may be outdated. Please look at the time stamp on the story to see when it was last updated.
Three police officers suffered minor injuries Monday morning when they rescued a woman from the balcony of a burning home in Glendale, and a dog was killed in the fire.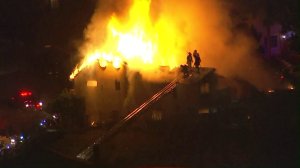 Aerial video from Sky5 showed the home burning in the 2000 block of Dublin Drive, in a hilly residential area, about 5:45 a.m.
Firefighters were forced to battle the fully engulfed home from ladder trucks around the perimeter and knocked down the blaze in about 45 minutes, Glendale Fire Department Chief Greg Fish said.
At one point, three Glendale Police Department officers managed to use a neighbor's ladder to rescue a woman from a second-story balcony, Fish said. She had become trapped there, with all other exits blocked by flames.
"What a great effort," Fish said of the officers, who were transported to a local hospital after suffering minor injuries during the rescue.
A Glendale city official later said one of the officers was taken to a burn center.
The victim was also in good condition, Fish said.
Two other people were initially believed to have escaped from inside the home, but Fish later said that the woman who was rescued was the only person in the house. A dog was killed in the fire, he said.
Neighbors told KTLA the dog was regularly kept inside the garage with a space heater to keep it warm. Fish said investigators planned to look for space heaters, fireplaces and holiday decorations as possibly linked to the blaze.
The home was a total loss and remained too unsafe for firefighters to enter by midday Monday.