This is an archived article and the information in the article may be outdated. Please look at the time stamp on the story to see when it was last updated.
Exploding propane tanks helped fuel a 2 acre fire that broke out at a pallet yard in Perris Friday morning.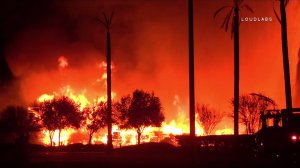 The fire was reported about 2:49 a.m. at the intersection of North Webster Avenue and West Ramona Expressway near the 215 Freeway, according to a news release from the Riverside County Fire Department.
The fire started behind a commercial structure on the property, according to the Fire Department.
Although the structure was not threatened, several propane tanks were exploding amid the flames, the Fire Department reported.
At one point, Southern California Edison was called due to the fire burning two power poles.
Nearly 8 hours after fire began, crews reported 100 precent containment.
The Fire Department planned to keep firefighters at the scene throughout the day.
No injuries were reported and the cause of the fire was under investigation.
Both directions of the West Ramona Expressway were closed as crews worked to put out the fire.