This is an archived article and the information in the article may be outdated. Please look at the time stamp on the story to see when it was last updated.
A Cal Fire engineer who lost his life in Ventura County while working one of the largest wildfires in California history was identified as a 32-year-old husband and father whose wife is pregnant with the couple's second child.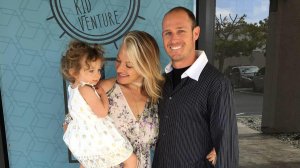 Cory Iverson was engaged in fire suppression efforts on the eastern flank of the nearly 390-square-mile Thomas Fire, part of a strike team of two or three other crew members, when he sustained the fatal injuries, Cal Fire spokeswoman Lynne Tolmachoff told CNN. He was pronounced dead at the scene.
As an engineer, Iverson was an experienced firefighter who had been promoted to drive the fire engine and lead a crew.
A cause of death was not immediately provided and, as of Thursday evening, authorities have not released any additional information about the circumstances in which he died. No other firefighters were injured.
"We have initiated a serious accident review team to look into the circumstances behind this tragic loss," Cal Fire Director Ken Pimlott said at an afternoon news conference. "Until this review is complete, there is nothing more I can share."
Iverson, of Escondido, was a Cal Fire San Diego Unit fire apparatus engineer and had been with the agency since 2009, Pimlott said. He was the father of a 2-year-old girl named Evie; his wife, Ashley, is expecting their second daughter this spring.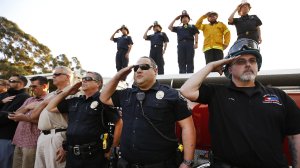 "Please continue to keep Cory, his family, and his coworkers in your thoughts and prayers as they deal with this tragic and untimely loss," Pimlott said.
A procession for the fallen firefighter was held in the afternoon after his body was recovered near Fillmore.
Dozens of firefighters lined up to honor their deceased colleague as the procession began about 3:30 p.m. in the 1700 block of Grand Avenue, in an area of citrus grove below the Topatopa Mountains. Iverson's body was transported from the area, just north of Fillmore, to the Ventura County Medical Examiner's Office.
Gov. Jerry Brown issued a statement, saying, "Anne and I are saddened by Engineer Cory Iverson's tragic death. His bravery and years of committed service to the people of California will never be forgotten."
Iverson's death was the first firefighter fatality in the recent series of fires burning across Southern California, but is the second linked to the Thomas Fire. A 70-year-old Santa Paula woman's body was discovered in her car along an evacuation route last week.
The fire engineer died on the same day that the Thomas Fire — which ignited in the Santa Paula area last Monday — grew to nearly 250,000 acres, becoming the fourth-largest wildfire in modern California history. It is now also the eight most destructive fire in the state's history, having destroyed at least 974 structures — many of them residences, according to Cal Fire.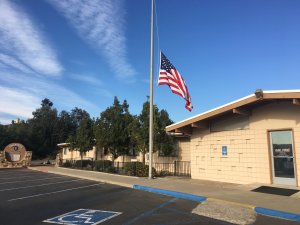 Hampered by strong winds and dry conditions that have been felt in the region for more than a week, firefighters have slowly been making progress as they work to contain the fire. A red flag warning remains in effect through Friday morning.
Containment was up slightly Thursday evening, to 35 percent, officials said. Still, about 18,000 structures remain threatened in Ventura and Santa Barbara counties.
In the Fillmore area, where Iverson died, more evacuations were issued Thursday. The boundary of the area in the evacuation zone is Hall Road to the west, Sespe Creek to the east, the Los Padres National Forest to the north, and city limits to the south. A voluntary evacuation is also in effect for Goodenough Road.
On the western side of the fire, the coastal communities of Santa Barbara, Montecito, Summerland and Carpinteria are under threat. The massive inferno is encroaching upon the burn areas from the Tea and Jesusita fires, which destroyed hundreds of homes and carved paths of destruction in neighboring hillside areas of Montecito and Santa Barbara in 2008 and 2009 respectively.
For more information, visit CountyofSB.org. or ReadyVenturaCounty.org.
A GoFundMe campaign has been set up to help support Iverson's widow and child.