This is an archived article and the information in the article may be outdated. Please look at the time stamp on the story to see when it was last updated.
An 84-year-old man is unaccounted for Friday after a fire ripped through a mansion the night before, and crews were developed a plan to go inside the home to search for him after cadaver dogs picked up the scent of human remains.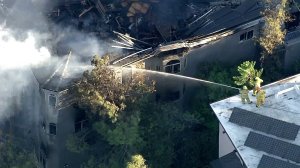 The blaze was reported about 8:35 p.m. Thursday at the 9,111-square-foot home located in the 4000 block of North Sea View Avenue in the Mount Washington neighborhood of Northeast Los Angeles.
More than 140 firefighters responded to the blaze, extinguishing the bulk of the flames in two hours and 47 minutes, according to Brian Humphrey with the Los Angeles Fire Department.
"Of 12 total identified residents, only one remains unaccounted for on Friday morning," Humphrey stated in a news release.
That person was identified only as an 84-year-old man.
One resident who escaped said he saw the man inside the burning home.
"I was on the same floor as my landlord. … He turned around and went back into his room and I never saw him again," said Daniel Nateras.
On Friday afternoon three cadaver dogs went inside the home, which was still emitting smoke and has been red tagged because it's unsafe, and picked up on the scent of human remains, according to LAFD spokesman David Ortiz.
"All three dogs alerted at the same location where it was believed that the gentleman who is missing used to sleep," Ortiz said. "And so now the next step is  the incident commander is developing a game plan on how we will go about searching the area to see if we can find remains there,"
An urban search-and-rescue crew went through the home looking for the man, or any other possible victims, but did not find him Friday night. The search could take days before crews can determine whether anyone was trapped inside.
Ortiz said an excavator was brought in for the search.
The missing man was initially thought to be the owner of the home, but Ortiz said Friday the home had been in foreclosure and was recently sold.
"The majority of the people inside the house have not seen the prior owner and for that reason we are still going to have our investigators come through," Ortiz said.
Most of the other residents were able to escape the home on their own, but four residents had to be rescued, said fire Battalion Chief Rod Souter.
One woman, who suffered smoke inhalation, was said to be in fair condition.
According to a description of the property on Realtor.com, the home was built in 1991 and had six bedrooms.