This is an archived article and the information in the article may be outdated. Please look at the time stamp on the story to see when it was last updated.
One person was injured in a crash involving a motorcycle and a car, which also left a fire hydrant sheared in South Los Angeles Friday morning.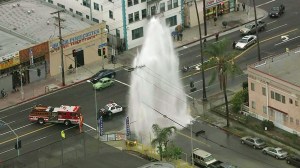 The collision occurred on the corner of South Figueroa Street and West 42nd Street (map) just before 7 a.m., according to Erik Scott of the Los Angeles Fire Department.
Aerial video from Sky5 showed a motorcycle lying in the middle of South Figueroa Street with responding police and firefighters parked nearby.
The car involved in the crash was a black four-door sedan, according to Scott.
Aerial video showed a black car just feet away from the sheared hydrant as water shot 40 to 50 feet into the air.
One person was taken to the hospital in unknown condition, according to Scott.
The LAFD was able shut off the water to the hydrant, Scott reported at 7:30 a.m.
Traffic on South Figueroa Street was temporarily diverted away from the incident, Scott said.
There was no word on what may have caused the crash.