This is an archived article and the information in the article may be outdated. Please look at the time stamp on the story to see when it was last updated.
A family of four died after being injured in a fire at a structure in Sylmar early Monday morning.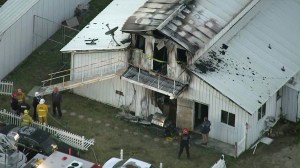 Firefighters responded to the fire at what was initially described as a "shed-like building" in the 13700 block of Eldridge Avenue (map) at 4:37 a.m., Los Angeles Fire Department spokesman Brian Humphrey tweeted.
Sky5 flew over the structure, which officials later determined to be a two-story metal-clad, "barn-like" residential building that was not equipped with smoke detectors, Humphrey posted on Twitter.
A couple was living with their two children on the first floor of the structure, and the fire was located on the second floor, according to LAFD Capt. Jaime Moore.
"They were not found in their beds; they were found huddled together in an area where they were looking for some kind of a shelter or an escape," Moore said. "Unfortunately the area they were found in, there was no means of escape there."
The two adults and their pre-teen boy and girl were pulled from the burning building by firefighters, and had initially been listed in grave condition, according to LAFD officials. All four later succumbed to their injuries, according to Moore.
The family members were identified by friends at the scene as Uriel Estrada, his wife Maria, and their two children, Isabel and Ale.
The fire was put out in about 25 minutes, Humphrey said.
Investigators were called to the scene to try to pinpoint the cause of the blaze.
KTLA's Eric Spillman contributed to this report.