This is an archived article and the information in the article may be outdated. Please look at the time stamp on the story to see when it was last updated.
An arson investigation was underway after a two-alarm fire ripped through a Taco Bell in San Bernardino Tuesday, authorities said.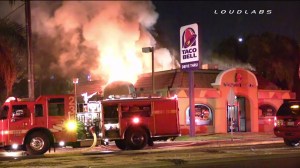 The blaze broke out at the fast food restaurant in the 200 block of East Redlands Boulevard (map) around 1:30 a.m., according to Robb Mascis, an engineer and spokesman with the San Bernardino Fire Department.
When firefighters arrived at the scene, they discovered "a fair amount of fire" inside the kitchen extending to the ceiling and through the roof, Mascis said.
The flames were knocked down a short time later.
The fast food restaurant was closed at the time the blaze ignited, according to Mascis.
No injuries have been reported.
The extent of the damage to the Taco Bell was not immediately known.
Arson investigators were at the scene early Tuesday working to determine the cause of the blaze.