This is an archived article and the information in the article may be outdated. Please look at the time stamp on the story to see when it was last updated.
Arson investigators were working Sunday morning to determine the cause of a fire that started in a vehicle and spread to a garage at a Santa Ana home, authorities said.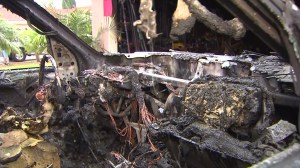 The fire broke out around 2:15 a.m. in the 800 block of East Alder Avenue, according to the Orange County Fire Authority.
It spread to three other vehicles and the garage before firefighters knocked down the flames about 20 minutes later.
One witness reported hearing something that sounded like gunfire around the time when the blaze started.
"Shotgun, and then after that, another one. And some girls said 'call 911,'" said Jorge Estrada, a neighbor. "I walked to the window and then I saw fire in the back of the garage."
Investigators said, however, that vehicles on fire can be mistaken for guns going off.
Four residents and three dogs made it safely out the home. They were displaced as a result of the fire and smoke, and were being assisted by the Red Cross.
No injuries were reported.
KTLA's Geoff Peters contributed to this report.