This is an archived article and the information in the article may be outdated. Please look at the time stamp on the story to see when it was last updated.
Firefighters are battling a massive blaze that is burning bales of plastic bottles, cardboard and other recyclables — and sending a giant plume of dark smoke into the air — in the Ontario area Friday night.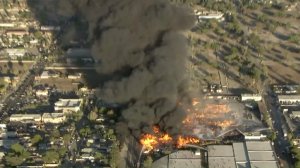 Firefighters were called to a 3-alarm fire at a recycling center at Grove Avenue and Holt Boulevard about 4:23 p.m. The fire has since spread to a neighboring recycling center.
Hundreds of homes and businesses have been evacuated, according to fire officials.
A captain with the Ontario Fire Department later told KTLA that there have been no injuries to firefighters thus far.
"So we do have a couple of out buildings that were destroyed in the fire," said Capt. John Sitar of the OFD. "We have no firefighters that were injured. We have no workers on sight that were injured. We do have a civilian that had some smoke inhalation, but they're on the outskirts of the facility."
A quick wind change caused the man to suffer from smoke inhalation, according to fire officials.
A Twitter account run by the city of Ontario said a "hay fire" was burning on State Street, which is parallel to Holt Boulevard. The account later said firefighters were working to protect commercial structures threatened by a pallet fire.
Aerial video from Sky5 showed both hay bales and pallets burning on a large parcel, with black smoke towering hundreds of feet into the air.
The blaze was burning about a mile south of the 10 Freeway and just northwest of Ontario International Airport, about 35 miles east of downtown Los Angeles. Flights at the airport was not affected by the fire.
Railroad tracks in the area were closed due the fire, the city said.
Firefighters expect the flames to continue for several more hours due to the amount of burnable fuel available.
KTLA's Mariel Turner contributed to this story.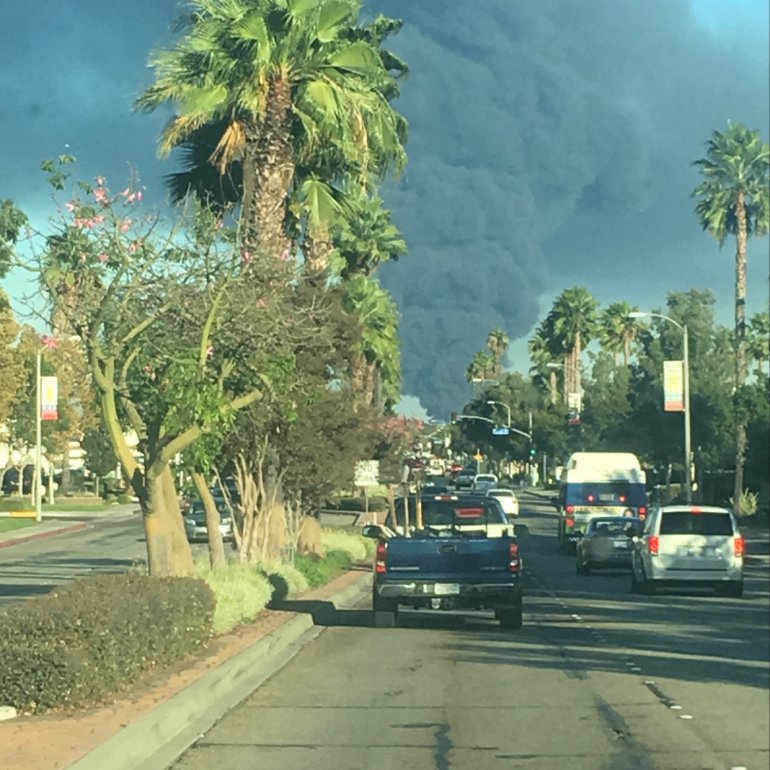 Fire in Ontario! #HappeningNow #ontario #fire #BreakingNews pic.twitter.com/hnQNXm56Rg

— Lynn Mangum (@partiesbylynn) October 22, 2016
#ontariofire Happening now. @ABC7 @KTLA @Fox11LA pic.twitter.com/TVDFxFXQMy

— Nuro (@Nuropsych1) October 21, 2016
Unknown type fire burning near Ontario airport. #fire #Ontario pic.twitter.com/Uv8EABPP07

— DurlingMedia.com (@firephotos) October 21, 2016