This is an archived article and the information in the article may be outdated. Please look at the time stamp on the story to see when it was last updated.
A fire burned through a strip mall in the community of Hermon Wednesday morning, causing the roof to collapse before firefighters eventually doused the flames.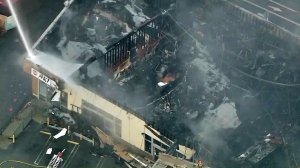 The fire began about 4:30 a.m. in the one-story strip mall located in the 5900 block of Monterey Road, said David Ortiz, a spokesman for the Los Angeles Fire Department.
A sign on the front of the burning building identified the business as Aki Sushi, aerial video from Sky5 showed.
Part of the structure was compromised and forced arriving firefighters into a defensive mode, Ortiz said.
Video showed a large portion of the strip mall's roof collapsed during the firefight. Hermon is a small community that is part of the broader Montecito Heights area east of the 110 Freeway in Northeast L.A.
The sushi restaurant and a neighboring laundromat were both destroyed by the fire, but crews did manage to keep the flames away from a doughnut shop and a hair salon.
One person was apparently working at the doughnut shop when the fire broke out, Ortiz said.
The cause of the fire was under investigation, but it did not appear to be intentional, Ortiz said.
No injuries were reported.
KTLA's Alberto Mendez contributed to this report.