This is an archived article and the information in the article may be outdated. Please look at the time stamp on the story to see when it was last updated.
A third-alarm fire that ripped through the No Name Cafe restaurant in San Bernardino late Monday was believed to have been set on purpose, and fire officials were looking to find a man seen walking away from the blaze.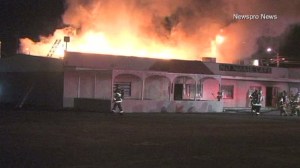 Flames erupted just after 11:45 p.m. at the restaurant, which is located in the 1400 block of East Highland Avenue. It quickly turned into a third-alarm fire, Capt. Jason Serrano of the San Bernardino Fire Department said Tuesday morning.
By the time firefighters arrived at the location, the business was fully engulfed in flames, video from the scene showed.
At one point, crews battling the blaze inside the restaurant had to clear the structure amid fears that the roof was about to collapse, Serrano said.
Firefighters were able to extinguish the fire, but the business sustained $500,000 worth of damages, making it a complete loss, according to Serrano.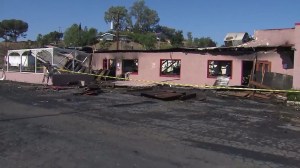 Authorities said they believed the cause of Monday's fire was arson, and responding firefighters saw an adult male walking away from the business shortly after the flames erupted.
Investigators were working to determine who the man was, and they were seeking surveillance video so they could provide a description of him, Serrano said.
Fire officials would not say if any accelerants were found in or near the building.
The blaze was the second one reported at the No Name Cafe this month, authorities said. On July 10, firefighters extinguished a fire that caused extensive damage to the kitchen area, according to officials.
That fire's cause remained under investigation, but officials at the time had called it "accidental." The cafe's owner said he left a pan on the stove in the evening but had to leave the kitchen because of a family emergency, officials said.
The restaurant has been closed since the July 10 fire.
On Tuesday, witnesses said they watched as the blaze consumed the restaurant, a local landmark.
"It a lot of smoke, a whole lot of fire," said San Bernardino resident Marquise Hockel. "You could feel the heat from the street."
KTLA's Alberto Mendez contributed to this story.
More Video: