This is an archived article and the information in the article may be outdated. Please look at the time stamp on the story to see when it was last updated.
Two Los Angeles firefighters were among four people hospitalized following a violent crash involving a Fire Department ambulance in Pacoima Wednesday morning.
The collision occurred just before 11 a.m. in the 12700 block of West Osborne Street, according to an LAFD alert.
The ambulance was southbound on San Fernando Boulevard when it hit a white Toyota Camry that has been attempting to make a left turn onto Osborne Street, authorities on scene said.
One of the firefighters and and a woman who was being transported in the LAFD ambulance were seen being taken away by stretcher to awaiting emergency vehicles, Sky5 video over the scene showed.
They were all taken to a local hospital in fair condition, according to the Fire Department.
Witnesses at the scene attempted to help a fourth patient, a male driver who was trapped under the wreckage of a white car that had crashed into two poles holding up a sign outside of a business, before firefighters arrived.
"I was trying to open the door," said one witness. "He was taking a turn and I guess the other car didn't see him and they hit him."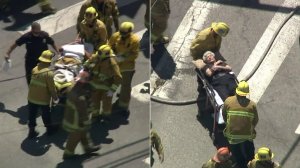 Firefighters arrived on the scene a short while later and frantically worked to rescue a the man, according to the aerial footage.
After a few minutes, they were able to pull the man from the vehicle, taking him by stretcher to an ambulance.
Los Angeles police do not yet know who was at fault in the incident and said the ambulance was handling a code three activation.
"I don't know whether or not the person driving this white vehicle didn't see or didn't hear," said Officer Liliana Preciado with the Los Angeles Police Department. "I'm not trying to point the finger at anyone here, but we know they were operating in a code three manner and that vehicle then moved in front of them."
Gustavo Chavez, a witness at the scene, told KTLA he was nearly hit by the two vehicles as he walking across the street.
The rescued driver was hospitalized in serious condition and was later upgraded to fair condition after receiving treatment.
The cause of the crash is under investigation.