This is an archived article and the information in the article may be outdated. Please look at the time stamp on the story to see when it was last updated.
Firefighters are getting a handle on the Woolsey Fire, now entering its second week, as Gov. Jerry Brown and U.S. Interior Secretary Ryan Zinke surveyed the damage caused by the blaze.
The deadly blaze burning in Los Angeles and Ventura counties has destroyed about 504 structures, while 57,000 remain under threat since it began Nov. 8, Cal Fire officials reported.
On Thursday evening, firefighters said that — for the first time — the blaze had not grown during the day, while containment rose to 62 percent.
Three deaths have been linked to the fire, which has scorched 153-square miles. A body that was discovered near Agoura Hills Wednesday was identified by family members as 73-year-old Alfred Deciutiis, a retired oncologist.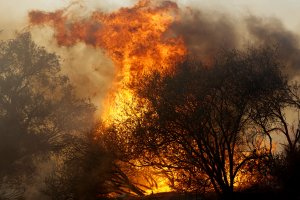 A firefighter from Washington who was battling the blaze was struck by vehicle early Thursday, the California Highway Patrol confirmed.
The incident occurred about 12:10 a.m. near Pacific Coast Highway and Deer Creek Road.
The firefighter, who works with the South Kitsap Fire Department, suffered chest trauma, the Ventura County Star reported, citing crews at the scene.
The firefighter may have been struck by a civilian vehicle, the newspaper reported.
In a statement from the South Kitsap Fire Department, officials said the firefighter was flown to a hospital with non-life threatening injuries. He has more than 21 years of firefighting experience, the department said.
Flare-ups continued to be an issue for firefighters earlier this week, but authorities hope favorable conditions will help them get an increase in containment figures.
Gov. Brown, Trump Admin Vow to Work Together in Disaster Response
After surveying some of the damage caused by the blaze, Brown and Zinke highlighted the importance of working together.
Earlier this week, Zinke toured areas scorched in the Camp Fire.
"This is my fourth time to California, all of which have been fires, and every time I come back, I say this is the worst fire I've seen," the secretary said.  "Yesterday is the worst fire I've seen," he said. "Paradise unfortunately likely will not be the same city."
He highlighted the importance of local, state and federal governments working together after a destructive natural disaster.
"There's no silver bullet to these fires," Zinke said. "The seasons have gotten longer, the temps are hotter, were in the midst of a historic drought …  The solution is working together."
The secretary said natural disasters like the recent wildfires throughout the state shouldn't be a partisan issue.
"It's unsustainable to have this happen year after year, or have a season like this where you have hundred thousand acre fires becoming routine. We're a great nation, this is not a Republican or Democrat issue, this is an American issue and we should address it as such, but it's going to take working together, from the community all the way up to the federal government."
Brown said more has to be down in preparing for wildfires, again calling them "the new abnormal."
"It's so beautiful here, but having so many people living in this space, we are going to have to make a lot of changes," Brown said.
"Going forward we are going to have to take a lot of steps that aren't so easy. We're going to have to manage our forests better, we're going to have to build our cities more smartly, we're going to have to build shelters so that people can escape when these terrible fires get out of hand, and yes, we're going to have to deal with climate change."
He added: "We're got to get on the side of nature, we can't just fight it."
Some Evacuation Orders Lifted While Others Remain in Place, With Residents Anxious to Return Home
All of Calabasas, portions of Malibu and part of Ventura County's South Coast were reopened to residents Wednesday, but other areas remained under mandatory evacuation.
Evacuation orders were lifted around 7:45 p.m. for Ventura County homes adjacent to Pacific Coast Highway between Las Posas Road, at the Point Mugu naval base, and the Los Angeles County line. But residents on Deer Creek and Yerba Buena roads were still subject to mandatory evacuation, and numerous roads in the area remained closed.
Residents who live along Pacific Coast Highway from Webb Way to the 25700 block of PCH (east of Corral Canyon), as well as areas from the ocean (south) to the Malibu city limit (north) were also allowed to repopulate Thursday afternoon.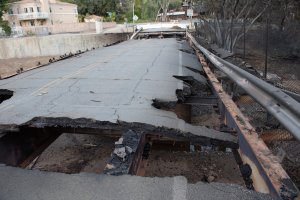 At 11 a.m. Friday, residents of the Triunfo Canyon area near Agoura Hills will also be allowed to return home, including those on Triunfo Canyon Road, north of Kanan Road, south of Sherwood Drive and east of Hidden Highlands, authorities said.
L.A. County sheriff's officials said conditions in some areas remain unsafe as multiple agencies are still working to repair vital infrastructure, including power and telephone poles that burned, gas lines that were compromised and roadways that were destroyed.
Authorities from various county departments and utility companies would be meeting every few hours to reassess the possibility of repopulation, the Sheriff's Department said in a news release.
"A methodical, multi-pronged process of inspection and evaluation must be conducted to ensure the health, safety and welfare of all our residents," the release states. "Conditions of roads, open land for trees on the brink of falling, rock slide hazards, unsafe standing, damaged or destroyed structures, hazardous materials, and the overall condition of the basic functional infrastructure and utility services are just some of the many considerations."
An interactive map provided by Cal Fire indicates which areas of L.A. and Ventura counties remain under evacuation orders.
Meanwhile, the Hill Fire, which also began in Ventura County Nov. 8, is 99 percent contained at 4,531 acres.
Disaster Aid Teams on Scene
Officials with the Federal Emergency Management Agency (FEMA) and staff from L.A. County's Department of Mental Health have responded to the fire area and were working to register those affected for disaster aid and other forms of assistance.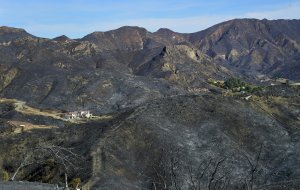 Emergency aid staff will be wearing FEMA attire and carry a FEMA photo ID, which residents should ask to see to confirm they are speaking with a qualified individual.
Those impacted could be eligible to receive grants for temporary housing and home repair, or qualify for a low-interest disaster loan.
Residents and business owners can begin applying for assistance online at www.DisasterAssistance.gov or by calling 800-621-3362 or 800-462-7585.
People whose mental health has suffered as a result of the fire can also get support by calling the Disaster Distress Helpline at 800-985-5990 or texting "TalkWithUs" to 66746.
#Woolseyfire *VIDEO UPDATE* @LACOFD Assistant Chief Anthony Williams with the situation in the Monte Nido, Piuma Road, and Topanga areas. pic.twitter.com/vO8UqXxgJn

— L.A. County Fire Department (@LACoFDPIO) November 16, 2018