This is an archived article and the information in the article may be outdated. Please look at the time stamp on the story to see when it was last updated.
A firefighter was hospitalized with burn injuries Monday morning after responding to a structure fire in Canoga Park.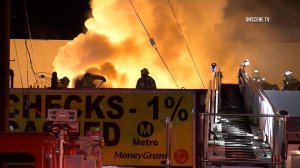 The fire was reported about 3 a.m. at a strip mall near the intersection of Sherman Way and De Soto Avenue, Los Angeles Fire Department spokesman Brian Humphrey said.
More than 100 firefighters were sent to battle the blaze, which was confined to the one story strip mall, Humphrey said.
The fire heavily damaged the strip mall and burned for about 49 minutes before firefighters doused the flames.
One firefighter suffered burn injuries and was taken to a local hospital in fair condition, Humphrey said.
No other injuries were reported.
The 61-year-old building was not equipped with optional fire sprinklers, according to the Fire Department.
Motorists were told to expect delays and were asked to avoid the area if possible.
The cause of the fire was under investigation.