This is an archived article and the information in the article may be outdated. Please look at the time stamp on the story to see when it was last updated.
ECHO PARK, Calif. (KTLA) — Two people were injured, including a firefighter, in a fire at a house in Echo Park overnight.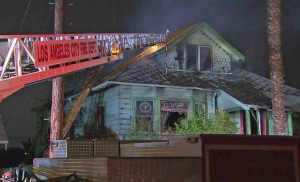 Fire crews arrived at the two-story home in the 900 block of Bonnie Brae Street around midnight.
It took them about 45 minutes to completely extinguish the blaze.
One woman was trapped inside the home, but she was safely removed and transported to a local hospital.
A firefighter was also injured after falling inside the home.
"Fire was extending throughout the building from the exterior on the rear all the way up into the attic space," said LAPD Asst. Chief Ralph Terrazas.
"It's really old," he added. "It's wood frame. The wood is easy to burn and it's really old."
Authorities weren't certain whether or not the woman lived inside the home. The cause of the blaze is under investigation.