This is an archived article and the information in the article may be outdated. Please look at the time stamp on the story to see when it was last updated.
Two firefighters suffered burn injuries while battling a "stubborn" blaze at Bel-Air mansion Thursday evening, according to the Los Angeles Fire Department.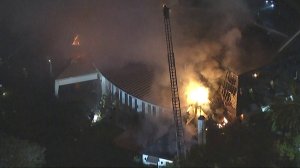 The fire was reported about 5:30 p.m. at 10835 West Bellagio Road and firefighters remained on scene for more than two hours before finally extinguishing the flames.
Smoke and flames could be seen from the attic, responding units determined. Crews quickly transitioned into defensive mode as they poured water from the outside of the home.
The 5,719-square-foot home that is apparently worth about $20 million suffered "significant damage," but firefighters were able to stop the flames from spreading into a pool house, garage and brush in the area, officials said in an updated alert.
The residents, which included children and a nanny, were alerted of the blaze by smoke alarms and were able to safely get out of the home.
One firefighter had burns to his face and hands, while the other had minor burns to his ears. Both firefighters were taken to a local burn center as a precaution, officials said. 
Arson investigators are on scene, which is standard, and the cause is under investigation.
LAFD Capt. Brenden Silverman said that the fire was challenging because of the narrow road leading up to the house and the "sheer size of the residence."
#StructureFire; 10835 W BELLAGIO RD; #BelAir; Greater Alarm structure fire, 80+ firefighters on-scene (video from my mom's backyard 😮) pic.twitter.com/8ge8r0jAb5

— Liberté Chan (@libertechan) February 9, 2018