This is an archived article and the information in the article may be outdated. Please look at the time stamp on the story to see when it was last updated.
Firefighters have knocked down a stubborn blaze that burned for hours at a commercial building in the Huntington Park area early Wednesday morning.
The three-alarm fire broke out at a dollar store shortly before 3:30 a.m. in the 2700 block of 57th Street, according to the Los Angeles County Fire Department.
When firefighters arrived at the scene, they found heavy smoke and fire coming through the roof, County Fire Department Inspector Randall Wright said. They immediately mounted an aggressive interior attack, while also cutting holes through the roof to remove heat and gas.
Due to the amounts of fuel in the building, however, the flames quickly spread, according to Wright. He added two of the three businesses within the structure showed heavy fire damage and smoke.
Crews worked to prevent the fire's spread to the third store.
Nearly 100 firefighters battled the large blaze, which was still raging two hours after it erupted. A hazardous materials team was also dispatched to the location because electronics inside the dollar store were emitting toxic fumes, according to the fire inspector.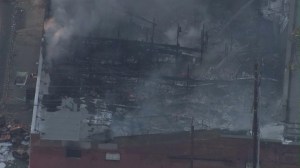 At one point, thousands of gallons of water were being dumped on the fire each minute, he added.
By 7 a.m., firefighters were using foam to mop up after hot spots in the structure. Less than 45 minutes later, county fire officials told KTLA  that the fire had been knocked down.
No injuries have been reported.
It was not known how the fire started, and its cause was under investigation.
Huntington Park Police Department have advised motorists and pedestrians to avoid the area of 57th Street and Pacific Boulevard.
KTLA's Alberto Mendez contributed to this story.
More Video: